Mobile based document wallets and the future of governance
A number of mobile wallets have been introduced by State & Central governments (Digilocker) to ease access, storage & sharing of identities and critical documents. We had covered in an earlier article the possibilities of the Mobile wallet of the future.
The current design of mobile wallets is a radical change in the way citizens can access & store their critical documents especially considering they have the seal of the government stated explicitly (Digilocker – Digilocker issued documents are at par with original documents as per IT ACT, 2000).
However, on a closer review, we see that currently the wallets are more like a storage which can readily accessed and submitted only for non-financial and non-critical validations like
Presenting Aadhaar ID from Digilocker
Presenting Driving License in a routine check
Lets look at an example to better understand this.
Telangana has been a leader in introducing IT into governance to enable transparency and ease of access. The T App Folio is one such initiative that allows Telangana citizens to access their documents, issued by the State government including Land records, Caste certificates, Income certificates, Driving license & many more.
As visible in the screenshot of my driving license, when shared with a 3rd party only a PDF document is shared and verification of the document as being authentic is limited to what is visible which can be also be tampered with, considering it's a PDF.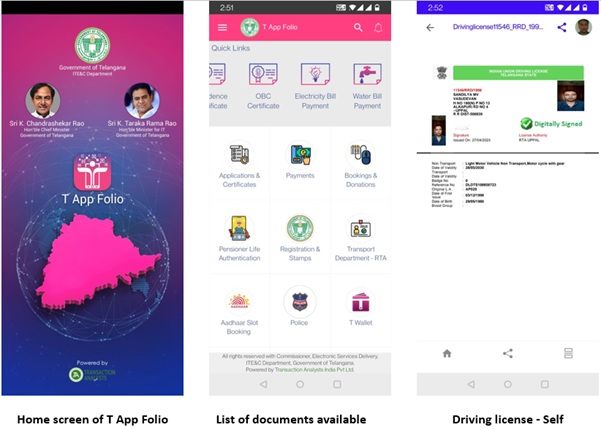 (Note – Symbols and Images only for representational purposes – Not for external circulation)
Mobile wallets and this form of accessing documents is going to become the norm in our society in a few years to come (UPI Payments already has become).
The next step in closing the loop on verification & validation of mobile wallet submitted documents is to enable the seamless movement of these documents on a tamper proof and immutable technology. The digitalization of credentials is the next step in governance that can significantly ease access to government services for citizens. Blockchain is one such opportunity that can be availed by governments to build a rules-based system accessible by authorised personnel in a way that the information is Publicly Available, yet Privately Purposed.
Considering that Blockchain is open source we now have the possibility of creating a Public Blockchain as a Digital Public Infrastructure that can be availed by Citizens and Organizations in easing verifications & validations while acting as a single source of truth. In the Blockchain domain, while there have been pilot implementations going on – due to limitations of the underlying technology and lack of all stakeholder buy-in the – projects have not yet been implemented at population scale.
VREV now offers a population scale Public Blockchain I-PIXI for governance. I-PIXI is a population scale registry management utility currently clocking @250000 Transactions Per Second (Approx 20 Billion TPD). The underlying blockchain, CORD by Dhiway Networks, an Indian organization, is open-source based and delivers the core blockchain premise – a digital trust focused ledger.
The opportunity to experiment, create and deploy solutions that address Governance at scale, unleashing the creative energies of the open applications ecosystem – is the promise of digital public infrastructure I-PIXI.